Adults Outcomes Framework
The Adult Outcomes Framework describes the key elements of financial capability for people from 18 years old through to later life. We have also published a framework of outcomes that are solely, or particularly, relevant to Older People in Retirement which you may choose to use if you are working primarily with older people. The schematic below summarises the outcomes in the Adults framework and the associated Question Bank, with indicators and survey questions, is available to download on the right-hand side of this page.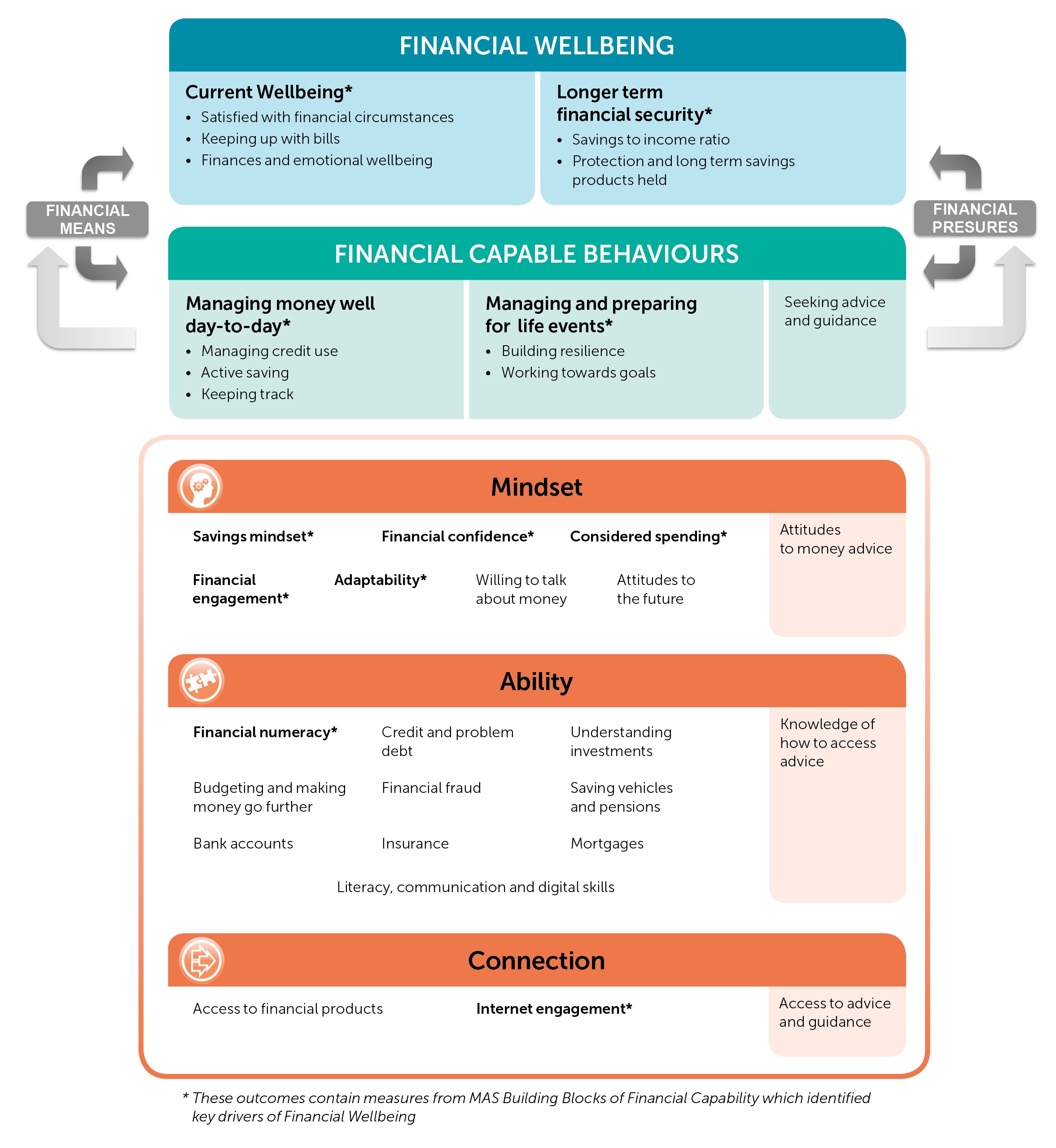 Recent improvements
We've recently made some improvements to the Framework and Question Bank, including:
Restructuring: We've restructured the Adult Outcomes Framework to bring it in line with MAS's work to identify the key 'Building Blocks' of financial capability. Click here to find out more about MAS's Building Blocks research.
Cognitive testing: When we originally developed the framework, many of the questions were adapted from existing, pre-tested surveys, but some were brand new. We wanted to make sure that these new questions were of a consistently high standard and that they'd be easily and correctly understood by the people answering them in the real world. To do this we commissioned an independent research agency to test these questions for us and ensure any necessary adjustments were made. Through this testing, we can now be confident in the quality of all the questions in the Question Bank associated with this Outcomes Framework.
What we know about these outcomes
The table below summarises the level of evidence found for each outcome in the Adult Financial Capability Framework (Financial Capability Outcome Frameworks, NPC 2014). Where we found more than one piece of evidence for an outcome, the table shows only the strongest, with commentary about the number and strength of studies. The existence of strong evidence of a particular outcome does not mean that the outcome has been comprehensively proven: the evidence available may relate to just one aspect of that outcome.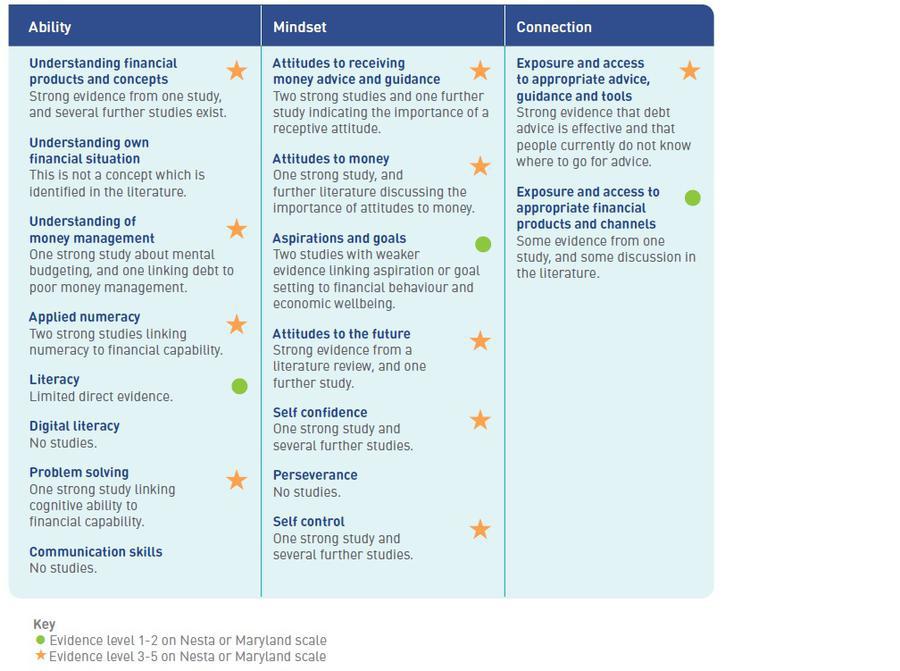 Evidence gaps
There is currently no evidence linking the following outcomes with changes in financial capability, behaviour or wellbeing:
communications skills
digital literacy
perseverance
understanding of one's own financial situation
Despite there being no significant evidence to support these outcomes, yet stakeholder feedback suggests that they are fundamental to people's ability to understand financial information, navigate financial products and services and make informed decisions. There are two possible reasons for this:
Problems with terminology: There is a lack of consensus on terminology in the literature on financial capability, so outcomes identified separately in this framework may be combined in the literature
Lack of evidence for the obvious: The importance of digital literacy, communications skills and understanding of one's own financial situation may seem so obvious that they have not been a priority for academic study
Gaps in evidence do not necessarily indicate that the outcomes are not valid, but they may be priorities for further study.
Other Supporting Frameworks and Tools
There are alternative tools and frameworks that you can use to measure financial capability outcomes. These might be better suited to the way you deliver your project or your beneficiaries. If you choose to use these tools, be aware that you will be less able to make comparisons with Money Advice Service's Financial Capability Survey data as well as other evaluations which use our framework. Of course, we'd be happy to discuss your choice with you. Contact us with any questions.
Citizens Advice Financial Capability Outcomes Measurement Tool
Following years of testing different measurement models, in 2015 Citizens Advice gained funding from Prudential to develop a set of draft financial capability outcomes, measures and tools. The measures and tools are now available and were developed in close consultation with a range of external and internal experts, including the Money Advice Service, to ensure they are robust, appropriate and align with the Financial Capability Outcomes Framework available within this toolkit.
You can find out more about the Citizens Advice tool here.
Toynbee Hall's MAP Tool
The MAP Tool allows organisations to assess the financial health of their clients, to ensure that they get the most effective help, and track their progress throughout an intervention. It is a sophisticated online survey system that allows organisations to survey beneficiaries at intervals in a project, drawing on a bespoke financial wellbeing question bank that has been developed with detailed input from over 300 experts and practitioners from across the financial health and inclusion sector.
You can find out more about the MAP Tool here.
This is not a comprehensive list, if you know of a tool we should consider including, please let us know.